Multiple Choice Questions
Spine
Please use the comments section at the bottom of the page if you have any query or feedback about any of the questions.
69. What percentage of women with osteoporotic fractures develop kyphosis:
A) 10%
B) 15%
C) 25%
D) 30%
E) 60%
68. In kyphosis , Magnetic resonance imaging (MRI) is appropriate in which of the following circumstances:
A) Malignancy is suspected as a cause of kyphosis
B) Neurologic deficit is suspected as a result of kyphosis
C) Patient with congenital kyphosis
D) Patient with back pain and a history of osteoporosis
E) All of the above
67. An 18-year-old man presents to the emergency department after sustaining a high-velocity gunshot wound to the umbilical region of the abdomen. An exit wound is found at the L3-L5 region of the lower back. Neurological examination shows grade 0/5 strength in his tibialis anterior muscles, gastrocnemius/soleus muscles, and extensor hallucis longus muscles bilaterally. His quadriceps and hamstrings strength is grade 2/5 bilaterally. A bullet fragment was seen at L4 within the spinal canal on computed tomography (CT) imaging. The patient sustained significant gastrointestinal trauma as a result of the bullet traversing his body. 
Management should consist of:
A) Administration of a broad-spectrum antibiotic for 14 days
B) Removal of the bullet fragment at L4
C) Continued serial neurologic examinations
D) Intravenous administration of dexamethasone for 24 hours
E) A, B, and C
66. Which of the following statements regarding lesions of the spinal cord caused by bullet wounds is true:
A) Twenty-five percent of patients with complete lesions recover one motor level after 1 year.
B) Thirty-three percent of patients with incomplete lesions usually have a partial or complete recovery after 1 year.
C) Complete lesions occur in more than 50% of all gunshot wounds to the spine.
D) 75% of patients in whom the bullet has passed through the spinal canal will experience a complete lesion.
E) All of the above
65. Which of the following statements regarding diskitis is correct:
A) Signs and symptoms of diskitis generally progress rapidly.
B) Intravenous drug use and immunocompromise are not generally considered risk factors for diskitis.
C) Diskitis commonly occurs in the thoracic region of the spine.
D) Blood cultures are generally positive in up to 70% of patients with diskitis.
E) All of the above
64. Which of the following statements is true regarding minimally invasive posterior lumbar interbody fusion:
A) Minimally invasive fusion may only be safely performed with the assistance of endoscopy.
B) Minimally invasive fusion has increased risk of nerve root injury.
C) Internal fixation with pedicle screws is not possible via the minimally invasive approach.
D) Intraoperative fluoroscopy if of great value in minimally invasive fusion.
63. Pain is the most common complaint in patients presenting with a primary spine tumor and is present in which percentage of patients:
A) 55%
B) 65%
C) 75%
D) 85%
E) 95%
62. What percentage of osteoblastomas occur in the spine:
A) 20% to 30%
B) 30% to 40%
C) 40% to 50%
D) 50% to 60%
E) 60% to 70%
61. To avoid damages to the vertebral arteries when exposing the posterior aspect of the first cervical vertebra, dissection should be limited to ______ mm from the midline on the superior aspect of C1 and _____ mm from the midline on the posterior aspect of C1.
A) 8 mm; 12 mm
B) 10 mm; 14 mm
C) 12 mm; 16 mm
D) 14 mm; 20 mm
E) 16 mm; 22 mm
60. Which of the following is the most common presentation of vertebral osteomyelitis:
A) Fever of unknown origin
B) Lower extremity pain and weakness
C) Unrelenting back pain not relieved by rest
D) Urinary incontinence
E) None of the above. It is usually an incidental finding during an unrelated work-up.
59. Which of the following methods is the standard in diagnosing vertebral metastatic disease:
A) Plain radiography demonstrating lytic lesion
B) Computed tomography with bony destruction respecting adjacent vertebral levels
C) Magnetic resonance imaging with typical destructive lesion characteristics
D) Tissue biopsy
E) There is no standard of care in diagnosing vertebral metastasis.
58. Which of the following statements is true regarding lumbar degenerative scoliosis:
A) Lumbar degenerative scoliosis is most commonly distributed to the left.
B) Lumbar degenerative scoliosis is most commonly distributed to the right.
C) Lumbar degenerative scoliosis is most commonly evenly distributed between left and right.
D) The distribution of lumbar degenerative scoliosis depends on age of patient at the time of onset.
E) No data are available.
57. Initial nonoperative management of adult degenerative spondylolisthesis includes all of the following except:
A) Physical therapy
B) Anti-inflammatory medication
C) Modified activity
D) Strict bed rest
E) Support brace
56. Which of the following is the most common presentation of degenerative spondylolisthesis in an adult patient:
A) Acute onset paraparesis
B) Bowel and bladder dysfunction
C) Severe shooting lower extremity pain
D) Low back pain usually of chronic duration
E) These patients are usually asymptomatic
55. Initial work-up of an otherwise healthy individual with acute onset low back pain should include:
A) A complete history, physical examination, and follow-up imaging studies only if indicated
B) A complete history, physical examination, and plain radiographs
C) A magnetic resonance imaging study of the lumbar spine
D) A computed tomography of the lumbar spine
E) No evaluation is needed on initial visit as most low back pain resolves spontaneously
54. Which of the following statements is true regarding the natural history of a herniated lumbar disk:
A) The natural history of a herniated lumbar disk is usually consistent with approximately 90% spontaneous resolution without intervention by 3 months' follow-up.
B) Surgical intervention is often required for definitive and long-term treatment.
C) Despite aggressive surgical correction, permanent neurological deficits are common.
D) Surgical diskectomy is a contraindication in patients with neurologic deficit.
E) The natural history of lumbar disk herniations has not been studied.
53. A posterolateral L4-L5 herniated nucleus pulposus can lead to radiculopathy at which level of the affected side:
A) L3
B) L4
C) L5
D) S1
E) All of the above
52. Which of the following is the most common cause of and the treatment for conus medullaris syndrome:
A) Traumatic injury treated with steroids
B) Ischemic injury treated by medical management
C) Chronic metabolic treated by correcting the underlying cause
D) Compressive lesion treated by surgical decompression
E) Idiopathic, no treatment is needed
51. The most common type(s) of peripheral nerve injury is:
A) A sharp laceration injury
B) A blunt laceration injury
C) Contusion and stretch injuries
D) A proximal root avulsion
E) Traumatic peripheral nerve injuries occur with approximately the same frequency.
50. The most effective treatment for malignant intramedullary tumors of the spinal cord is:
A) Surgical excision
B) Radiation therapy
C) Chemotherapy
D) Surgical excision followed by a combination of chemotherapy and radiation therapy.
E) Neither a single treatment modality nor a combination of treatment modalities has proven effective in significantly improving mortality
49. A 70-year-old man complains of severe, burning pain in both calves after he ambulates approximately one block. He denies significant back pain. He has long-standing, insulin-dependent diabetes mellitus and a history of coronary artery disease. The patient has smoked two packs of cigarettes each day for more than 30 years. The patient is diagnosed with neurogenic claudication. 
What is the most likely source of his symptoms:
A) Herniated lumbar disk
B) Isthmic spondylolisthesis
C) Degenerative spinal stenosis at L3-L4
D) Degenerative spinal stenosis at L4-L5
E) Metastatic tumor
48. Canal compromise in burst fractures (Slide) is caused by: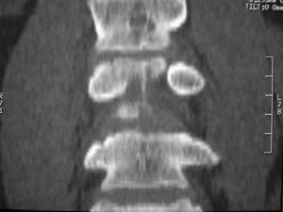 A) Lamina fracture and anterior migration
B) Migration of the posteroinferior vertebral body
C) Retropulsion of the posterosuperior vertebral body
D) Narrowing of the interpedicular distance
E) Herniated disk material
47. When evaluating thoracolumbar burst fractures, it is important to remember that the spinal cord ends in the conus
medullaris, which typically is present at what level :
A) T12
B) L1
C) L2
D) L3
E) L4
46. In this slide of a lumbar burst fracture, which column is disrupted to distinguish it from a compression fracture:
A) Anterior
B) Lateral
C) Posterior
D) Middle
E) Medial
45. The axial computed tomography scan depicts a patient with spinal stenosis (Slide). The primary source of neural compression is impingement on the traversing nerve root by the: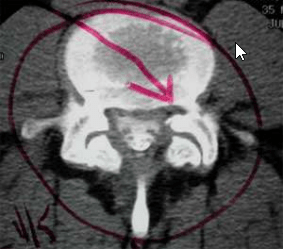 A) Superior facet of the level below
B) Inferior facet of the level above
C) Redundant ligamentum flavum
D) Overgrown medial pedicle
E) Herniated nucleus pulposus
44. A 45-year-old woman has pain in her right upper extremity and neck. The sagittal T2-weighted magnetic resonance
image is presented (Slide 1) as well as an axial image (Slide 2). Her pain has not responded to nonsteroidal antiinflammatory drugs or physical therapy.
 Which of the following is the most appropriate treatment: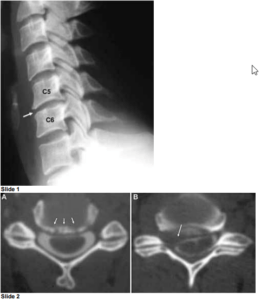 A) Needle aspiration of the C4-C5 intervertebral space
B) 6-week course of antibiotics and bracing
C) Needle biopsy of C4 or C5
D) Mammography and technetium bone scan
E) Anterior cervical diskectomy
43. A 40-year-old woman has severe neck pain following a motor vehicle accident. Her plain lateral radiograph of the spine is shown (Slide). A sagittal magnetic resonance scan is shown (Slide). 
The most likely diagnosis is:
A) Pseudosubluxation of C5 on C6
B) Compression fracture of C5
C) Unilateral facet dislocation
D) Bilateral facet dislocation
E) Degenerative sponylolisthesis C5 on C6
42. A 35-year-old man has neck pain following a motor vehicle accident. His axial computed tomography scan is shown
(Slide). 
The most appropriate treatment would be: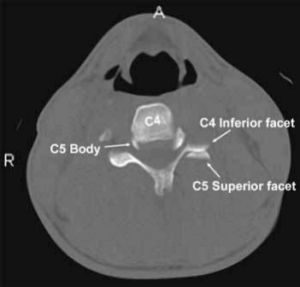 A) Observation
B) Neck collar and physical therapy
C) Reduction and collar immobilization
D) Reduction and halo vest immobilization
E) Reduction and fusion
41. If the peroneus longus and peroneus brevis muscles are weak in a patient who has radicular back pain, then which of the following nerve roots is compressed:
A) L3
B) L4
C) L5
D) S1
E) S2
40. If the extensor digitorum longus and extensor digitorum brevis muscles are weak in a patient who has radicular back pain, then which of the following lumbosacral nerve roots is compressed:
A) L1
B) L2
C) L3
D) L4
E) L5
39. A patient with a herniated disk has a diminished patellar tendon reflex. Which of the following lumbosacral nerve roots is affected:
A) L1
B) L2
C) L3
D) L4
E) L5
38. Which of the following is not a risk factor for degenerative spondylolisthesis:
A) Female gender
B) Diabetes
C) Oophorectomy
D) Lumbarization of the S1 vertebrae
E) Age older than 60 years
37. In the face of vertebral infection and progressive deformity, surgical reconstruction should:
A) Never use instrumentation
B) Never use allograft bone
C) Always be approached posteriorly
D) Always involve an aggressive debridement
E) Always follow extensive antibiotic treatment until the infection is eradicated
36. Which of the following is more characteristic of tuberculoid rather than pyogenic spinal infection:
A) Bony destruction on plain radiography
B) Elevated erythrocyte sedimentation rate
C) Prolonged onset of mild back pain despite extensive destruction seen on radiograph
D) High fevers, weight loss, and night pain
E) Predilection for the cervical spine
35. Which of the following is not a surgical indication in the treatment of spinal column infection:
A) Persistent back pain and elevated carbonreactive protein despite 8 weeks of intravenous antibiotics and bracing
B) Progressive neurological deficit and magnetic resonance image evidence of epidural abscess
C) Progressive kyphotic collapse
D) Development of sepsis
E) Extension of infection into the disk space
34. The most common site of a thoracic disk herniation requiring surgery is from levels:
A) T1-T4
B) T4-T7
C) T8-T11
D) T11-T12
E) T12-L1
33. A 48-year-old man presents with acute onset of unilateral, anterior band-like chest pain after lifting heavy machinery
at work. The history and physical examination and the magnetic resonance image confirm a T9-T10 thoracic disk herniation. The best initial treatment for this patient is:
A) Bed rest and traction for 6 weeks
B) Costotransversectomy to remove the T9-T10 disk herniation
C) Activity modification and physical therapy
D) Transthoracic decompression of the disk
E) Laminectomy and decompression of the disk
32. Surgical treatment of thoracic disk herniation by a laminectomy is contraindicated because this procedure is associated with which of the following:
A) Incomplete relief of symptoms
B) High incidence of neurologic damage
C) Destabilization of the spine
D) High incidence of recurrence
E) High incidence of post-laminectomy kyphosis
31. When considering surgical intervention in the management of low back pain, it is crucial to try and identify the possible offending agent or pain generator. Based on awake anatomical stimulation studies, what percentage of patients should report significant discomfort when a nerve root is either compressed or stretched in an attempt to elicit pain:
A) 99%
B) 60%
C) 40%
D) 20%
E) 1%
30. A 35-year-old woman has been complaining of severe unrelenting mid to low back pain for the past 5 months. Conservative management, consisting of bed rest and nonsteroidal anti-inflammatory drugs (NSAIDs), has not decreased the intensity of her symptoms. She immigrated to the United States from Vietnam 6 months ago. Based on the sagittal magnetic resonance image below .
The next step in her management is: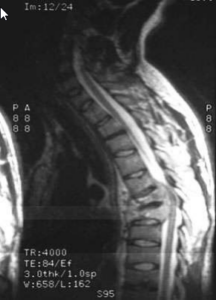 A) Antibiotics with gram-positive coverage
B) Surgical decompression and reconstruction
C) Biopsy of the lesion to obtain a specimen for pathology
D) Continued conservative management and observation
E) Physical therapy for low back strengthening
29. An 11-year-old boy sustains a fall while jumping on a trampoline. He has moderate back pain, an L-5 radiculopathy, and weakness of the right extensor hallucis longus. Radiographs and a computerized tomography scan of the lumbar spine demonstrate a slipped vertebral apophysis. 
The recommended treatment is:
A) Laminectomy and excision of annulus and vertebral bony margin
B) Bed rest
C) Thoracolumbosacral orthosis
D) Physical therapy
E) Spinal traction
28. A 12-year-old girl presents to the clinic with scoliosis detected by school screening. Her past medical history includes ophthalmologic observation for Lisch nodules of the iris. She has just started her menstrual periods. On physical exam, she has axillary freckles and normal neurological function. Standing radiographs of the spine illustrate a 32° right thoracic curve from T4 to T10 and rib pencilling. In the sagittal plane, she has a thoracic kyphosis of 30°. 
The most likely diagnosis is:
A) Adolescent idiopathic scoliosis
B) Congenital kyphoscoliosis
C) Neurofibromatosis-1 (NF-1)
D) Neurofibromatosis-2 (NF-2)
E) Stickler disease
27. During posterior cervical plating, several techniques can be employed. 
The recommended lateral mass screw position is:
A) 10° laterally, 90° perpendicular to the lateral mass
B) 50° cephalad and 30° laterally
C) 30° laterally and 15° cephalad
D) 15° laterally and 30° cephalad
E) 60° laterally and 30° medially
26. A type 3 traumatic spondylolisthesis of the axis, as classified by Levine and Edwards, is best treated with which of the following:
A) Soft collar immobilization
B) Hard Philadelphia cervical orthosis
C) Halo vest immobilization
D) Open reduction and operative posterior stabilization
E) Gardner-Wells tongs application and awake reduction, then posterior stabilization
25. With a right-sided anterior cervical spine approach, the structure at increased risk is the:
A) Recurrent laryngeal nerve
B) Superior laryngeal nerve
C) Hypoglossal nerve
D) Thoracic duct
E) Esophagus
24. A useful test to differentiate cervical radiculopathy from diabetic peripheral neuropathy is:
A) Hemoglobin A1C
B) Magnetic resonance imaging
C) Computerized tomography-myelogram
D) Electrodiagnostic testing
E) Cervical flexion/extension roentgenograms
23. The most accurate way to monitor the motor tracts during spinal surgery is to stimulate which of the following regions:
A) Tibial nerve
B) Peroneal nerve
C) Motor cortex
D) Gastrocnemius
E) Proximal spinal cord
22. Which part of the body is removed last in a posterior vertebral column resected via a posterior approach:
A) The lamina
B) The pedicles
C) The anterior wall of the vertebral body
D) The posterior vertebral cortex
E) The transverse process
21. Which of the following conditions does not have a risk of cervical deformity greater than the general population
A) Neurofibromatosis
B) Larsen syndrome
C) Diastrophic dysplasia
D) Achondroplas
E) Down syndrome
20. According to National Institutes of Health (NIH) criteria, what is the minimum number of 15-mm café-au-lait macules required as a diagnostic criterion for neurofibromatosis in postpubertal patients: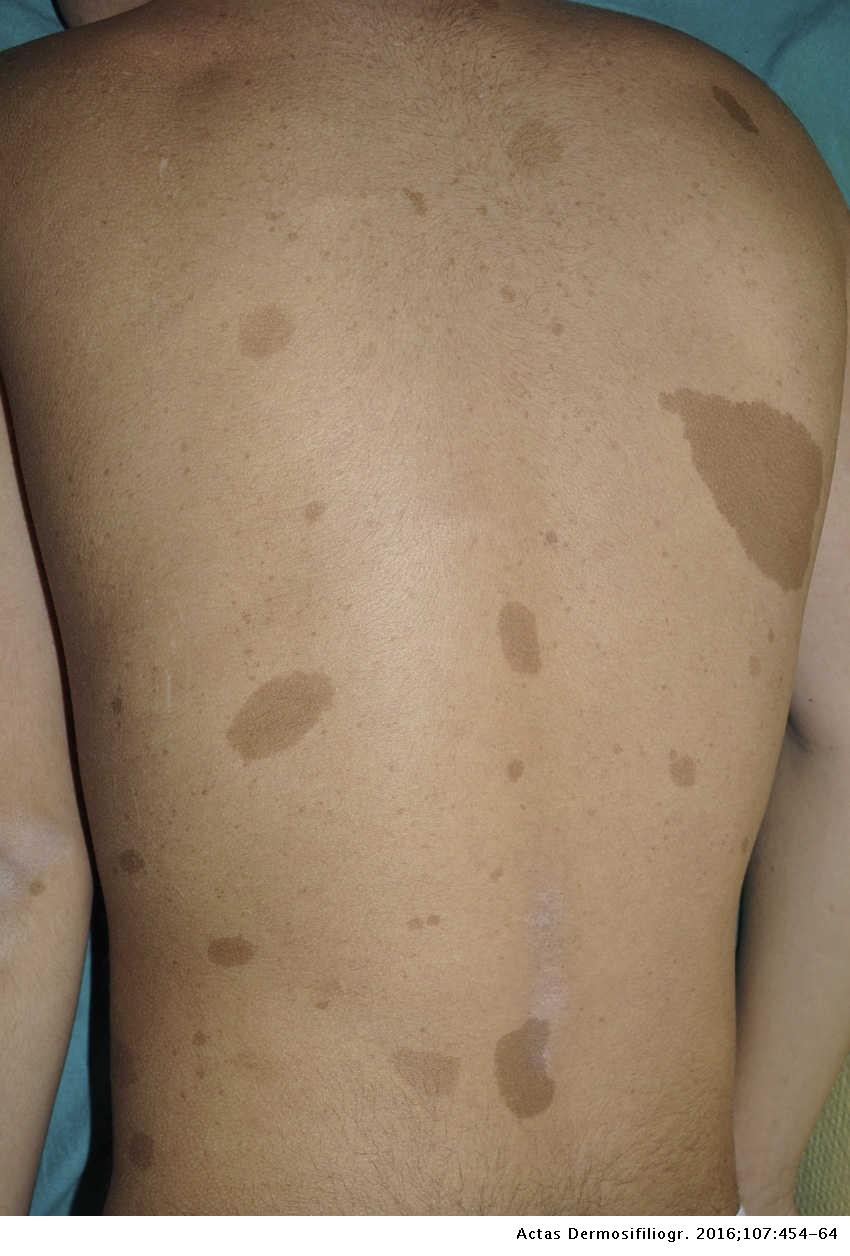 A) One
B) Two 
C) Three
D) Four
E) Six
19. Which of the following is found less often in children with lumbosacral agenesis as compared to controls:
A) Cervical spine anomalies
B) Maternal diabetes 
C) Hip dislocation 
D) Spina bifida
E) Genu recurvatum
18. Nine days after surgery, a 16-year-old boy with idiopathic scoliosis has a temperature of 39.5° C. Wound aspiration reveals gram-positive cocci in clusters. Your next step in management is:
A) Begin intravenous cephalosporin and monitor the response
B) Begin intravenous vancomycin and monitor the response 
C) Begin hyperbaric oxygen and intravenous antibiotics
D) Open and debride the wound, leaving the instrumentation in place 
E) Open and debride the wound, and remove the instrumentation
17. A patient with hemophilia A has a hematoma of the iliopsoas. He has a partial femoral nerve palsy. Treatment involves continuous factor replacement and:
A) Open drainage 
B) Decompression of the fascia over the femoral nerve
C) Percutaneous insertion of a drainage tube
D) Embolization of feeder vessels by interventional radiologist
E) Observation 
16. A patient with L4 level myelomeningocele has developed a full-thickness pressure sore on the heel that has a central necrosis and is draining. While undergoing debridement in the local emergency department, the patient develops labored respiration and a nondetectable blood pressure. The most likely cause is:
A) Latex allergy
B) Aortic dissection 
C) Septic shock
D) Spontaneous tension pneumothorax 
E) Shunt failure
15. A 12-year-old boy with achondroplasia has a gradual 40° thoracolumbar kyphosis. He is unable to walk more than two blocks. Magnetic resonance imaging reveals spinal stenosis, and the patient is scheduled to undergo posterior decompression from T12-S1. In addition to this procedure, you recommend:
A) Observation with serial radiographs every 4 months 
B) Postoperative brace for 6 months
C) In situ fusion with bone graft 
D) Posterior fusion across the kyphosis with instrumentation
E) Anterior corpectomy and fusion of T12
14. A 12-year-old girl is referred because of a positive school scoliosis screen. She has a curve of 16° from T5 to T12, convex to the right. She also complains of mild back pain over the region of the curve several times per week. Neurologic examination is normal. Recommended treatment includes:
A) Magnetic resonance imaging
B) Technetium bone scintigraphy with SPECT
C) Treatment with a thoracolumbosacral orthosis
D) Computed tomography of the thoracic spine 
E) Home exercises and re-examination in follow-up
13. A "stinger" (transient weakness of the upper extremity commonly seen after a blow to the head and shoulder in football) most commonly affects the:
A) Spinal cord 
B) C-5/C-6 nerve roots 
C) C-7/C-8 nerve roots 
D) Axillary nerve 
E) Musculocutaneous nerve 
12. The skin over the umbilicus is innervated by which of the following levels:
A) T2
B) T4
C) T7
D) T10
E) T12
11. The extensor hallucis longus muscle is innervated by which of the following nerve roots:
A) L1
B) L2
C) L3
D) L4
E) L5
10. The skin of the proximal one-third of the anterior thigh just distal to the inguinal ligament is innervated by which of the following sensory segmental levels: 
A) T12
B) L1
C) L2
D) L3
E) L4
9. The most common location of a chordoma is: 
A) Cervical vertebra
B) Thoracic vertebra
C) Lumbar vertebra
D) Sacrococcygeal region
E) Spheno-occipital region 
8. When harvesting an iliac crest bone graft from the post. approach, what anatomic structure is at greatest risk for injury if a Cobb elevator is directed too caudal?
A) Sciatic nerve
B) Cluneal nerves
C) Inferior gluteal artery
D) Superior gluteal artery
E) Sacroiliac joint
7. Through a retroperitoneal approach to the L4-5 disk, what structure must be ligated to safely mobilize the common iliac vessels toward the midline laterally and gain exposure?
A) Obturator vein
B) Iliolumbar vein
C) External iliac vein
D) Middle sacral artery
E) Hypogastric artery
6. If a surgeon accidentally burrs through the midlateral wall of C5 during a anterior corpectomy, what structure is at greatest risk for injury?
A) C5 root
B) C6 root
C) Internal carotid artery
D) Vertebral artery
E) Vagus nerve
5. What structure is located at the tip of the arrow in the figure attached?
A) Left L3 nerve root
B) Right L3 nerve root
C) Right L4 segmental artery
D) Right L4 nerve root
E) Left lateral disk herniation
4. What structure is most at risk for injury from a retractor against the tracheoesophageal junction during an ant. approach to the cervical spine?
A) Esophagus
B) Trachea
C) Superior laryngeal nerve
D) Recurrent laryngeal nerve
E) Sympathetic chain
3.  A 55 year old male presented with urinary retention and saddle paraesthesia. His symptoms began 12 hours ago. He has a cardiac pacemaker inserted. Examination revealed reduced anal tone.
What is the next step in management?
A) MRI scan of the lumbar Spine
B) CT myelogram of the lumbar spine
C) Immediate surgical decompression of the cervical spine
D) Physiotherapy, analgesia, and outpatient follow up
E) High dose corticosteroid
2.  A 40 years old man is involved in a road traffic accident and sustains neck injury with C4/C5 dislocation. On examination he has loss of motor function on one side and loss of pain and temperature sensation on the contralateral side. 
Which spinal cord syndrome is associated with these findings?
A) Central cord syndrome
B) Anterior cord syndrome
C) Brown-Sequard syndrome
D) Posterior cord syndrome
E) Neurologic shock
1. A 65 years old man presented with bilateral buttocks and legs pain, worse with standing and walking, and better with leaning forword.On examination, he has normal power in his legs, straight leg raising and pedal pulses normal.
What is this clinical presentation consistent with?
A) Peripheral vascular disease
B) Disc prolapsed
C) Cauda equine syndrome
D) Spinal stenosis
E) Osteomylitis of the spine