FRCS Case Discussions
Live | Interactive | Online Course

Everyone registered is entitled to 50% discount of the FRCS Case Studies Course
The 11th FRCS Case Discussions Course

28th October 2023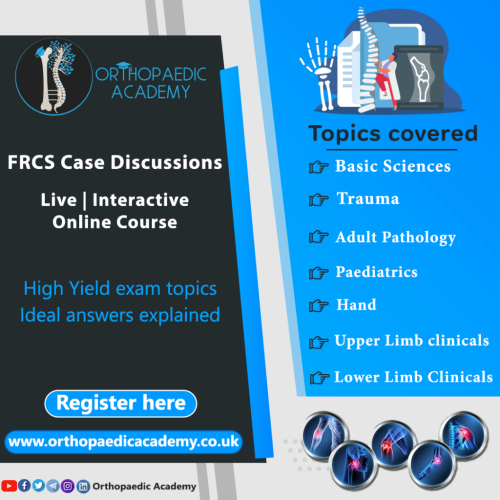 Target audience
Candidates preparing for part 2 of UK (JCIE) & International (JSCFE) FRCS Exams .
Useful to supplement their ISCP portfolio :

The structered assessment and feedback can be added to your ISCP portfolio .
Overview
The course for preparing for the Postgraduate Exit Orthopaedic Examination (FRCS) has been meticulously designed to meet the needs of all candidates, regardless of their preparation stage. Its goal is to provide candidates with the necessary skills and knowledge to excel in the exam.
Our teaching faculty for this course has been handpicked based on their extensive experience in guiding candidates for the FRCS (T&O) exam. They are deeply committed to helping each candidate reach their highest possible level of achievement in the examination. Our faculty is composed of senior orthopaedic colleagues with advanced education in teaching and providing feedback, guaranteeing a thorough and professional learning journey.
Course Aims
Pinpoint knowledge gaps that may require additional study and comprehension.
Develop proficiency in answering questions succinctly, simulating real-life clinical or viva situations.
Experience a wide variety of question types and subjects.
Delve into high-yield topics and complex concepts.
Gain insights into the key areas of concentration for pre-examination study.
Learn valuable study techniques and strategies.
Structure of the Course
Candidates are provided with a series of questions to practice answering under the guidance of the teaching faculty.
Detailed analysis of these questions and answers will be carried out, focusing on clarifying key points to evaluate comprehension.
Sufficient time will be allotted for questions and personalized feedback.
Time Table of sessions includes
Orthopaedic Orthopaedic Sciences
Paediatric Orthopaedics
Hand cases discussions
Adult Pathology
Trauma
Upper Limb Clinicals
Lower Limb Clinicals
Marking Criteria
The outcome grade in the FRCS exam is based on:
Methodical approach to your answer.
Your ability for clear decision making.
Ablility to proceed with minimal prompting.
Familiarity with relevant supporting literature.
Time Table

08.45 – 09.00 Login and registration
09.00 – 09:15 Welcome, Housekeeping, how it works.
09:15 – 10:15 Basic Sciences cases and discussion of answers
10:15 – 11:15 Paediatric cases and discussion of answers
11:15 – 12:15 Hands cases and discussion of answers
12:15 – 13:15 Adult Pathology cases and discussions of answers
13:15 – 13:45 Lunch break and informal Q & A with faculty
13:45 – 14:45 Trauma cases and discussion of answers
14:45 – 15:45 Upper Limb Clinical cases and discussion of answers
15:45 – 16:45 Lower Limb Clinical cases and discussion of answers
16:45 – 17:00 Q & A , Conclusions and close
Price:
Participant : £250 – Suitable for candidates doing the exam within the next 6 months .
Observer : £ 150 – Suitable for candidates in the early stages of exam preparation .
Both participants & Observers get CPD certificate approved by RCSEd for 4.5 CPD points


Examples from Previous Courses: