Multiple Choice Questions
Muskuloskeletal Tumours
Please use the comments section at the bottom of the page if you have any query or feedback about any of the questions.
14. Pain is the most common complaint in patients presenting with a primary spine tumor and is present in which percentage of patients:
A) 55%
B) 65%
C) 75%
D) 85%
E) 95%
13. What percentage of osteoblastomas occur in the spine:
A) 20% to 30%
B) 30% to 40%
C) 40% to 50%
D) 50% to 60%
E) 60% to 70%
12. Which of the following methods is the standard in diagnosing vertebral metastatic disease:
A) Plain radiography demonstrating lytic lesion
B) Computed tomography with bony destruction respecting adjacent vertebral levels
C) Magnetic resonance imaging with typical destructive lesion characteristics
D) Tissue biopsy
E) There is no standard of care in diagnosing vertebral metastasis.
11. The most effective treatment for malignant intramedullary tumors of the spinal cord is:
A) Surgical excision
B) Radiation therapy
C) Chemotherapy
D) Surgical excision followed by a combination of chemotherapy and radiation therapy.
E) Neither a single treatment modality nor a combination of treatment modalities has proven effective in significantly improving mortality
10. This slide is a computed tomogram of the dominant shoulder of a 45-year-old male tennis player. 
The most likely diagnosis is: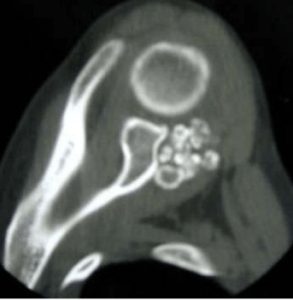 A) Osteosarcoma
B) Synovial osteochondromatosis
C) Anterior glenoid fracture
D) Synovial cell sarcoma
E) Rotator cuff tear arthropathy
9. All of the disorders listed below are examples of osteochondrosis except:
A) Legg-Calvé-Perthes disease
B) Scheuermann's disease
C) Osgood Schlatter disorder
D) Gorham's disease
E) Blount disease
8. Polyostotic fibrous dysplasia is caused by a mutation in which of the following genes:
A) GNAS 1
B) EXT 1 
C) Fibroblast growth factor receptor protein
D) CFBA1
E) COL1A1 
7. Which of the following is known about the genetics of multiple hereditary exostosis (MHE):
A) There is no genetic pattern for this condition.
B) MHE follows an x-linked inheritance pattern. 
C) MHE follows an autosomal recessive pattern. 
D) MHE involves a defect in biosynthesis of heparan sulfate. 
E) MHE involves a defect in fibroblast growth factor. 
6. Enchondral ossification is responsible for mineralization in all of the following conditions except: 
A) Callus formation during fracture healing
B) Heterotopic bone formation
C) Cartilage degeneration is osteoarthritis
D) Embryonic long bone development
E) Perichondrial bone formation
5. A 15-year-old boy has a destructive lesion in the distal femur with soft tissue extension. Needle biopsy shows a high-grade osteosarcoma. CT scan of the chest is normal and the technetium bone scan shows involvement of only the distal femur. 
What is the surgical stage according to the system of the Musculoskeletal Tumor Society:

A) Stage 1
B) Stage 2
C) Stage IIA
D) Stage IIB
E) Stage III
4. The most common location of adamantinoma of bone is the:

A) Radius
B) Ulna
C) Femur
D) Tibia
E) Fibula
3. The most common malignant tumor of the hand is?
A) Chondrosarcoma
B) Epithelioid sarcoma
C) Squamous cell carcinoma
D) Basal cell carcinoma
E) Osteosarcoma
2. The most common soft tissue sarcoma of the hand is:
A) Epithelioid sarcoma
B) Malignant fibrous histiocytoma
C) Soft tissue osteosarcoma
D) Synovial sarcoma
E) Alveolar rhabdomyosarcoma
1. A 10 year-old boy presents with worsening pain in the femur. MRI scan and biopsy shows features consistent with a high grade osteosarcoma.
Which one of the following statements does NOT apply to his treatment?
A) A CT chest is required to look for pulmonary metastases
B) Chemotherapy is usually given both pre and post operatively and has radically improved survival rates.
C) Limb salvage options might include rotationplasty.
D) In this case wide local excision and a distal femoral lengthening endoprosthesis could be used.
E) Limb salvage surgery is not possible in the majority of distal femur osteosarcoma cases