Multiple Choice Questions
Trauma
Please use the comments section at the bottom of the page if you have any query or feedback about any of the questions.
78.Which muscle is affected if during the approach to this fracture ? it's innervating nerve and accompanying blood vessel are compromised?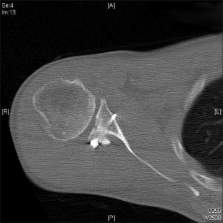 A) Teres Major
B) Infraspinatus
C) Subscapularis
D) Teres Minor
E) Deltoid
77. In humeral shaft fractures, all of the following are absolute indications for ORIF except:

A) Open fracture
B) Vascular injury
C)Radial nerve palsy
D) Ipsilateral forearm fracture
E) Compartment Syndrome
76. A 45 years old man has sustained a minimally displaced spiral fracture at the junction of the middle and distal third of the humerus shaft.
He has extensive bruising and swelling of the upper arm, but no open wound is present. He has loss of sensation over the lateral aspect of the forearm and also difficulty in flexion of the elbow.
Which is the most likely structure involved?

A) Radial nerve
B) Axillary nerve
C) Musculocutaneous nerve
D) Suprascapular nerve
E) Median nerve
75. A 27-year-old banker injures his foot and sustains a displaced divergent Lisfranc fracture-dislocation.


The optimal management would consist of:
A) Below knee plaster cast
B) Closed or open reduction and screw stabilization
C) Closed or open reduction and K-wire stabilization
D) A bridging external fixator
E) Closed or open reduction and combined screw and K-wire stabilization
74. Nail bed injury in the adult might be associated with which of the following:
A) Seymour fracture
B) Tuft fracture
C) Fracture of middle phalanx
D)Proximal phalanx fracture
E) Avulsion of central slip
73. The mother of a 4-month-old boy brings him to be evaluated for a swollen leg . 
The most likely diagnosis is: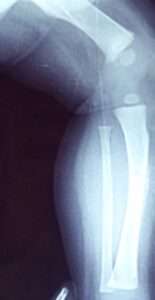 A) Rickets
B) Osteogenesis imperfecta (OI)
C) Scurvy
D) Nonaccidental injury
E) Caffey's disease
72. A 14-year-old ice hockey player had a jersey pulled over his head in a brawl during a game. He finished the game without incident and denies any other traumatic event.
The boy presents the following day with a stiff neck tilted to the right side and an inability to bring his head to a neutral position. On physical examination, the boy's head is tilted to the right 20°, rotated to the left 20°, and slightly flexed. Attempts at passive rotation to a neutral position produce pain. The exam is otherwise unremarkable.
Computerized tomography scans show atlantoaxial rotatory displacement with no anterior displacement of C1 on C2. Treatment should include:
A) Urgent C1 to C2 fusion
B) Use of a soft collar, exercises, and nonsteroidal anti-inflammatory drugs (NSAIDs)
C) Head halter traction and NSAIDs
D) Philadelphia collar, Minerva casting, and NSAIDs
E) Occiput to C2 fusion
71. Which of the following zones of the physis is involved in Salter Harris Type I and II fractures?
A) Proliferative zone
B) Perichondrial ring
C) Reserve zone
D) Node of Ranvier
E) Zone of provisional calcification
70. Initially, the most appropriate method to evaluate a patient with suspected peripheral nerve injury involves:
A) An imaging study, preferably magnetic resonance imaging (MRI), of the injured region
B) Electromyography and nerve conduction velocity studies
C) A doppler ultrasound to study blood flow to the injured area
D) An MRI of the entire spine to evaluate possible spinal cord injury
E) A detailed neurologic evaluation noting distal motor function
69. Appropriate treatment of a nondisplaced Jefferson fracture is:
A) Hard cervical orthosis
B) Halo vest
C) Soft collar
D) Posterior surgical stabilization
E) Nerve treatment necessary
68.  All of the statements regarding the atypical femur fracture due to bisphosphonate therapy are true EXCEPT :
A) Fracture is located along femoral diaphysis from distal to the lesser trochanter to proximal to supracondylar ridge
B) Fracture is sustained with minimal or no trauma
C) Complete fracture extends through both cortices
D) The fracture line originates at the lateral cortex and is usually transeverse
E) The incomplete fracture can involve either the medial or lateral cortex
67. A 45-year-old man has neck pain following a motor vehicle accident. His neurologic examination is normal. His plain
radiographs are shown . 
The most likely diagnosis is: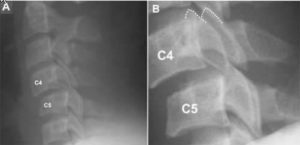 A) Cervical strain (whiplash-type injury)
B) Compression fracture of C5
C) Unilateral facet dislocation
D) Bilateral facet dislocation
E) Spinous process fracture
66. Which of the following fracture types is the most stable fracture:
A) Teardrop fracture
B) Burst fracture
C) Unilateral facet dislocation
D) Hangman's fracture
E) Clay-shoveler's fracture
65. Compression fractures of the spine secondary to metastatic disease usually first affect which component of the nervous system first:
A) Balance
B) Bowel and bladder function
C) Light touch sensation
D) Pain perception
E) Motor function
64. Which of the following is the time window from the time of injury during which treatment of nonpenetrating spinal cord injury with methylprednisolone is indicated:
A) 2 hours
B) 4 hours
C) 8 hours
D) 12 hours
E) 24 hours
63. A 38-year-old construction worker falls from a scaffolding and sustains a pure flexion-compression injury to T12. In this type of injury, which portion of the vertebral body fails first:
A) End plate
B) Subcortical cancellous bone
C) Posterior elements
D) Middle column
E) Lamina
62. Appropriate treatment of a nondisplaced Jefferson fracture is:
A) Hard cervical orthosis
B) Halo vest
C) Soft collar
D) Posterior surgical stabilization
E) Nerve treatment necessary
61. A 55-year-old man with ankylosing spondylitis has a minor fall and is suffering with neck pain. Anteroposterior and lateral radiographs are negative with no evidence of fracture. He has no neurologic loss and has normal strength with the exception of severe restricted motion.
Twelve hours following injury, he is found to have bilateral bicep and tricep weakness.
The appropriate management and the work up of this individual is:
A) Computerized tomography (CT) anteroposterior lateral radiographs of the cervical spine
B) CT scan of the cervical spine
C) Magnetic resonance imaging (MRI) of the cervical spine
D) Bone scan of the MRI
E) Electromyogram to better delineate all the nerve neuropathy
60. Comparing manual traction and finger trap traction in reducing distal radius fracture
A)  Manual traction may better correct dorsal tilt
B)  Finger traction may better restore ulnar height
C)  There is lower incidence of CRPS with finger trap traction
D)  There is higher incidence of carpal tunnel syndrome with finger trap traction
E)  Manual pain cause less pain during reduction than finger trap reduction
59. What percentage of women with osteoporotic fractures develop kyphosis:
A) 10%
B) 15%
C) 25%
D) 30%
E) 60%
58. An 18-year-old man presents to the emergency department after sustaining a high-velocity gunshot wound to the umbilical region of the abdomen. 
An exit wound is found at the L3-L5 region of the lower back. Neurological examination shows grade 0/5 strength in his tibialis anterior muscles, gastrocnemius/soleus muscles, and extensor hallucis longus muscles bilaterally. His quadriceps and hamstrings strength is grade 2/5 bilaterally. 
A bullet fragment was seen at L4 within the spinal canal on computed tomography (CT) imaging. The patient sustained significant gastrointestinal trauma as a result of the bullet traversing his body. 
Management should consist of:
A) Administration of a broad-spectrum antibiotic for 14 days
B) Removal of the bullet fragment at L4
C) Continued serial neurologic examinations
D) Intravenous administration of dexamethasone for 24 hours
E) A, B, and C
57. Which of the following statements regarding lesions of the spinal cord caused by bullet wounds is true:
A) Twenty-five percent of patients with complete lesions recover one motor level after 1 year
B) Thirty-three percent of patients with incomplete lesions usually have a partial or complete recovery after 1 year
C) Complete lesions occur in more than 50% of all gunshot wounds to the spine
D) 75% of patients in whom the bullet has passed through the spinal canal will experience a complete lesion
E) All of the above
56. An 11-year-old boy sustains a fall while jumping on a trampoline. 
He has moderate back pain, an L-5 radiculopathy, and weakness of the right extensor hallucis longus. 
Radiographs and a computerized tomography scan of the lumbar spine demonstrate a slipped vertebral apophysis. 
The recommended treatment is:
A) Laminectomy and excision of annulus and vertebral bony margin
B) Bed rest
C) Thoracolumbosacral orthosis
D) Physical therapy
E) Spinal traction
55. A type 3 traumatic spondylolisthesis of the axis, as classified by Levine and Edwards, is best treated with which of the following:
A) Soft collar immobilization
B) Hard Philadelphia cervical orthosis
C) Halo vest immobilization
D) Open reduction and operative posterior stabilization
E) Gardner-Wells tongs application and awake reduction, then posterior stabilization
54. What are the main findings of medial tibial stress syndrome on a bone scan?
A) Delayed uptake of tracer and nonfocal uptake over the posteromedial tibial border
B) Lack of uptake of tracer in all phases
C) Focal uptake of tracer in early phase only
D) Focal uptake of tracer in delayed phases
E) Nonspecific uptake of tracer in all phases
53. Which best describes a type IIA distal clavicle fracture?
A) The fracture is lateral to the coracoclavicular ligaments
B) The fracture involves intra-articular injury of the acromioclavicular joint
C) The fracture line is between the conoid and trapezoid ligaments
D) The fracture is medial to the coracoclavicular ligaments
E) The fracture involves comminuted distal clavicle fracture